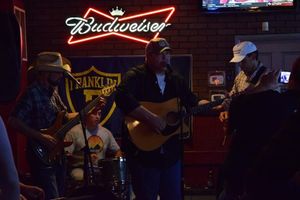 Bio
White River Rambler is a classic country/southern rock influenced band.  Having experienced singer/songwriter Scott Boshears fronting the group gives original music top priority.  The assembled back line  consists of John Alexander on drums, Brad Beach on lead guitar, & Josh Hause on bass. They combine for a diverse sound with a multitude of musical inspirations on the respective instruments. Never falling short of innovative. 
There isn't anything quite like a White River Rambler show! Bringing to life songs that relate to everyone. With a fresh perspective on the way things used to be in the music industry.  You won't find a sound quite like this elsewhere. Listen for yourself on all streaming sites, and seek them out at a venue near you to really drive it home.  
Two Full Length albums available NOW! 
Contact us directly at whiteriverrambler@gmail.com for booking & information on private events, festivals, streaming gigs, and more!